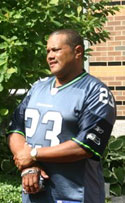 Robert "Bobby" Trufant III comes to the IMF through the benevolent spirit of our own Kelly Cox. Their meeting in New Orleans some eight years ago fostered an unwaivering friendship - their personalities are complementary.
Despite losing everything in hurricane Katrina, including his livelihood as the owner of an executive car service, Bobby maintains his zest for life and his love for people.
Bobby is helping the Tuohys on their drive across the country. Recently, as the result of a sandstorm on an Arizona highway, the Myeloma Mobile became part of a multi-car crash. Bobby not only stopped the Myeloma Mobile before it hit the truck in front of them, but he pulled two people from burning cars on the highway. As a result of his actions, the Tuohys are safe. To read more about Bobby's heroic acts during the accident, read Robin's blog.
The IMF feels honored that he graces us with his intellect and kindred spirit.
Watch Bobby's interview on KVOA Tucson after the accident. (Best viewed in Internet Explorer.)